At the invitation of the Korea Institute of Geoscience and Mineral Resources (KIGAM), IMHE delegation led by Dr. WEI Fangqiang, deputy director of IMHE, paid a visit to KIGAM from October 13 to 15th, 2013. This is the first met since two institutes signed MoU in 2012.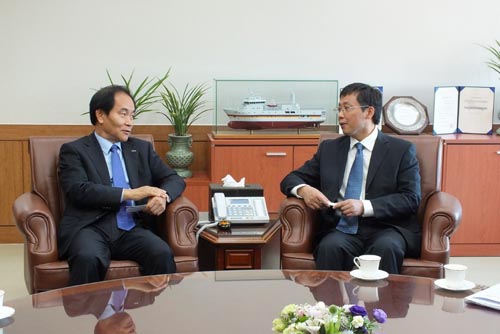 IMHE Delegation Visits KIGAM

IMHE delegation met with Dr. Kyu Han Kim, president of KIGAM on October 14th, 2013. Both sides talked about the status, mission, field observation stations, scientists and research progress of two institutes. Dr. WEI Fangqiang focused on understanding the status of mountain disaster, mountain environment research in Korea, especially the detailed curriculum, students' resources, and teaching arrangement of Korea International School of Geoscience.

During the visit, Dr.WEI Fangqiang made a report entitled "Debris flow risk zoning and its application", Dr. WU Yanhong made a report entitled "Phosphorus biogeochemical cycle in Gongga Mounatin, SW China" respectively.

IMHE delegation visited Korea Earthquake Monitoring and Research Center, Korea International School of Geoscience, Korea Geological Musuem accompanied by Dr. Hee-il Lee, Execute deputy president of KIGAM.

This visit made a promotion of the relationship between KIGAM and IMHE.


KIGAM was built in 1918 based on the Office of Geological Survey. The mission of KIGAM is to boost sustainable national development by contributing to the advancement of science and technology. KIGAM pursues this mission by conducting geological surveys inside and of Korea and disseminating research outcomes in fields such as mineral resources, geohazards, and climate change.