On April 7, 2014, a memorandum of understanding was signed between Chinese Academy of Sciences (CAS) and Tribhuvan University (TU) of Nepal, which will help further scientific cooperation of climate change, biodiversity protection and natural hazard management in two countries.
The agreement was signed by TU and two institutes of CAS, Institute of Tibetan Plateau Research, CAS and Institute of Mountain Hazards and Environment, CAS.
Prof. BAI Chunli, President of CAS attended the signing ceremony and delivered a speech. He said, there are dozens of scientists and students from Nepal working and studying in CAS at present. China is willing to make joint efforts with Nepal to make contributions to the development of Nepal's science and technology. Both sides should take advantage various platforms including the Third Pole Environment (TPE) programme of CAS and strengthened scientific collaboration.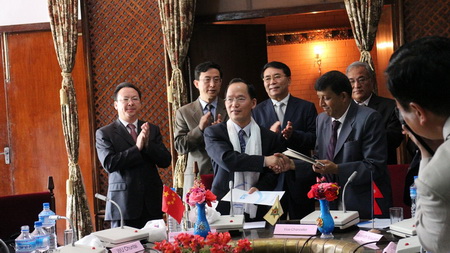 A Memorandum of Understanding is signed between ITP, CAS and TU, represented by Prof. Yao Tandong, Director of ITP, and Prof. Dr. Hira Bahadur Maharjan, Vice-Chancellor of TU. Photo by ITP,CAS.

Launched by CAS, the TPE program is dedicated to the study of the Third Pole Environment. This region is centered on the Tibetan Plateau and concerns the interests of the surrounding countries and regions. The TPE program aims to attract relevant research institutions and academic talents to focus on a theme of 'water-ice-air-ecosystem-human' interaction in the TPE, to reveal environmental change processes and mechanisms on the Third Pole and their influences and regional responses to global changes, especially monsoon systems, and thus to serve for enhancement of human adaptation to the changing environment and realization of human-nature harmony.

Prof. Dr. Hira Bahadur Maharjan, Vice-Chancellor of TU said, the negative effects of global warming doesn't have borders, and Nepal as a fragile ecological environment country, is in urgent need of cooperate with international institutes and organizations such as CAS, and the cooperation will eventually benefit Nepal.

The inauguration ceremony of TPE Kathmandu Center was held after the signing ceremony. This center was co-built by CAS and TU.

During the visit, Mr. Sushil Koirala, Premier of Nepal met with Prof. BAI Chunli and the delegation.