Perth III Mountain Our Future Earth conference was held in Perth, Scotland, UK during October 3 to 8.
During the Perth III conference period, Prof. QIU Dunlian, the executive editor in chief of the Journal of Mountain Science (JMS), held a lunch session on October 7 and had a face to face communication with scholars and scientists, and editors of other mountain journals.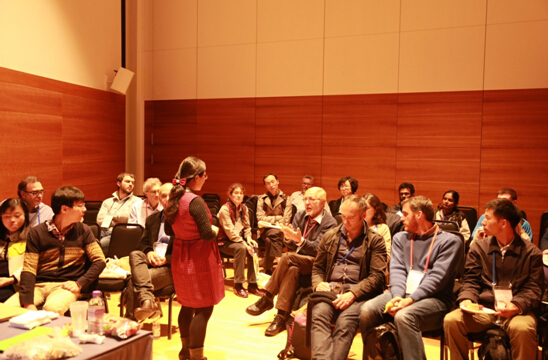 QIU having a discussion with Prof. Axel Borsdorf. (Picture by IMHE)

QIU made a brief introduction on the JMS and its developmental trends, and talked about the current challenges that the Journal is facing, such as the shortage of quality reviewers and how to speed up the manuscript processing time. Several scientists showed interest to join the editorial board of the JMS and expressed willingness to contribute more to the journal's development.

Prof. Axel Borsdorf (editor of Eco Mont) from the Austrian Academy of Sciences hoped both sides could have closer cooperation in manuscript sharing and journal promotion.

One Sri Lanka scientist said he had found a good journal on mountain science through this face to face communication.

Dr. João Azevedo from the Centro de Investigação de Montanha (CIMO), Portuguese discussed with QIU about the possibility of publishing a special issue in the JMS. He said the articles would come from next year's international conference--2016 Mountain, to be held in Bragança, Portuguese. JMS will act as one of the sponsors of this conference. He encourage authors to attend this international conference and actively submit articles!

During the Perth III conference period, QIU talked with Prof. Martin Price, the associate editor in chief of JMS and Dr. Anne Zimmermann, associate editor of the Mountain Research and Development,

The Journal of Mountain Science, started in 2004, is an international English-language journal on mountain sciences. The JMS is supervised by the Chinese Academy of Sciences (CAS), sponsored by the Institute of Mountain Hazards and Environment, CAS, JMS is devoted to mountains and their surrounding lowlands-ecoregions of particular global importance, with a particular emphasis on the important highlands/ mountains in the world, such as the Tibetan Plateau, the Himalayas, the Alps, the Andes, the Rockies and the many other mountain ranges of our planet.