The State Key Observation Station of Debris Flow in Dongchuan, Yunnan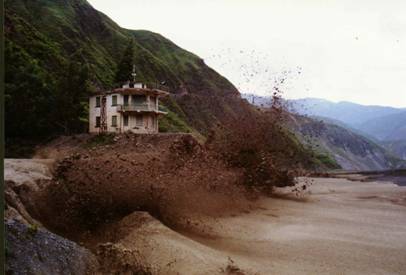 Location and Brief History
Dongchuan Debris Flow Observation and Research Station (DDFORS), China Academy of Sciences, established in 1961, was located in the lower reaches of Jiangjia Valley (103°08′E, 26°14′N), 30 km to Dongchuan and 190 km to Kunming. With the efforts of Institute of Mountain Hazard and Environment of CAS, Dongchuan Mining Administration, Institute of Glacier and Frozen Ground of CAS and other related institutions, the Station became an open field observation station of CAS in 1988, and won the award of the first-class stations of CAS. The Station was authorized to be the State Key Field Observation Station in 2000.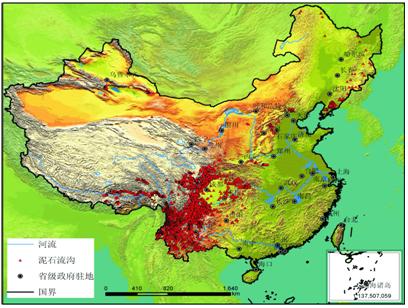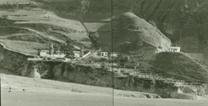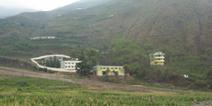 DDFORS in 1970s          DDFORS today
Jiangjia Valley and Debris Flow There
Across villages of Lumao and Dahai, Jiangjia Gully is a first level branch of Xiaojiang River in the northeast of Ynnan Province. With the elevation of 1042m, it has a drainage area of 48.6km2 and mainstream length of 13.9 km, and the top peak is 3269m. Menqian gully, Duozhao gully, Dawazi gully, Chaqi gully and Laojiangjia gully are the major branches. Because of the bad geological conditions, steep slopes, the frequent collapses and landslides, scarce vegetation, abundant rainfall (annual rainfall is between 700mm and 1200mm), debris flow is frequent, 15 occurrences every year on average, which destroys farmland and blocks Xiaojiang River. Each event consists of dozens to hundreds surge waves and lasts several to ten hours. The maximum discharge of debris flow is 2820 m3/s (5 times of peak discharge of Xiaojiang River ), the maximum velocity is 15m/s, the maximum flow depth is 5.5m, the maximum density is 2.37t/m3, and the maximum sand transporting is 6079t/s.
Research Area
●   Mechanism of Debris Flow Formation
●   Debris Flow Movement
●   Debris Flow deposition
●   Alarm and Forecast of Debris Flow
●   Debris Flow Mitigation Engineering (Civil Engineering and Biology Engineering)
●   Disaster Evaluation and Management of Debris Flow
Observations
●   Formation, forecast, alarm and observation of debris flow
●   Dynamics observation of debris flow
●   Statics and rheology of debris flow
●   Debris flow sediment transportation and valley evolution
●   Mountainous hydrology, benefits of engineering structures
●   Loss of water and soil
Mitigation Countermeasures
Through researches, DDFORS has established a debris flow mitigation mode combining stabilization, blocking, and drainage. Stabilization refers to stabilizing groove gradient and slope by building stepwise check dams on upstream reaches of the drainage basin. Blocking refers to blocking debris flow by building sand-blocking dam on middle and lower reaches of the basin. Drainage refers to draining debris flow and floods by building educing trough on lower reaches of the basin. Meanwhile, DDFORS makes researches on biology engineering of debris flow mitigation as the accessorial engineering for debris flow mitigation.
Contact Us
Address: Institute of Mountain Hazards and Environment, Chinese Academy of Sciences, No. 9, Section 4, Renminnan Street, Chengdu, Sichuan
Phone: +86-28-85287386, Fax: +86-28-85222258, Postcode: 610041
Website: http://nsl.imde.ac.cn
Address: Debris Flow Observation and Research Station, Lumao village, Dongchuan district, Kunming city, Yunnan Province
Phone: +86-871-2412127, Fax: +86-871-2412028, Postcode: 654112