Director: Xiubin HE

Chengdu Officer Tel: (028)85232105,68591568

Chengdu Officer Fax: (028)85229891,85222258

Staotion Office Tel: (023)54841055

E-mail:xiubinh@imde.ac.cn

Station Address: Shibao town, zhongxian county, Chongqing City

         Zhongxian station of CAS.

Chengdu Address: Section 4 No. 9 People's South Road, Chengdu, Sichuan, China
1. Introduction
Zhongxian station, as a field station of Institute of Mountain Hazards and Environment, Chinese academy of sciences (CAS) in the Three gorges reservoir area. According to the more severe ecological environmental problems of soil and water loess, non-point pollution and water level fluctuation zone after water storage and resettlement in three gorge reservoir to monitor soil and water loess and non-point source pollution and related experiments. The objects of zhongxian station are to offer the data platform and research base to better running the function of Three Gorge Reservior and ecological environment safety.
Zhongxian station covers a living and experimental area of 450 m2, an owner field experimental area of 10656 m2, a contract experimental slope land of 3.2 km2 and a water level fluctuation zone area of 40 km2. Comprehensive investigation and systemic sampling on soil, plants, hydrology, water quality and sediment had already did in the early 2007, also collected all kinds of environmental background value. now the observation environmental facilities of soil and water loess, non-point source pollution and water level fluctuation zone had already built. While automatic forming the tridimensional research network of on-line monitor, data wireless transport, analysis indoor measurement, field and computer simulation.
2. RESEARCH FIELD AND POSITION
(1) POSITION
The three gorge reservoir plays an important part in the economy, ecology, water safety, flood prevention, power generation, water resource protection and shipping in china especially in the Yangtze river. While the three gorge engineer has effects on the resettlement and ecosystem of the three gorge area. So the scientists of institute of mountain hazard and environment, CAS study on soil and water loess, non-point source pollution and water level fluctuation of this area.
(2) RESEARCH FIELD
Based on soil and water conservation, environmental science and ecology to study the process of soil erosion, the coupling and transfer law of water-sand- pollutants, ecological environmental degradation and protection of water level fluctuation zone in the condition of natural process and human disturbance in Three Gorge Reservoir. To study the approach and measurements for rational constructing the control module of water and sediment and sustainable ecological agricultural system, also protecting the ecological environment of water level fluctuation zone.
(3) PRESENT HOT-POINT RESEARCH
a. The process of soil erosion on the slope land and the balance of sediment in the watershed scale.
b. Regulation of slope lands and high efficiency demonstration of ecological agriculture
c. The process and mechanism of agricultural non-point source pollution in the mountain area and towns.
d. The degradation law of water level fluctuate zone and its protection.
3. RESEARCH CONDITION
Field experiment: 18 standard plots of non-point source pollution, 12 standard plots of soil erosion, 6 slope land plots of natural orchards, 4 monitoring plots of sediment and erosion in the water level fluctuate zone, 3 hydrological outlets, 2 automatic meteorological stations (AMS), 2 planting bases of water level fluctuate plants, 1 artificial simulation of rainfall device, 1 experimental wetland plots of ecological purification of village waste water and 1 experimental plots of ecological purification of town waste water. The investment of basic monitor facilities reached 3.8 million RMB.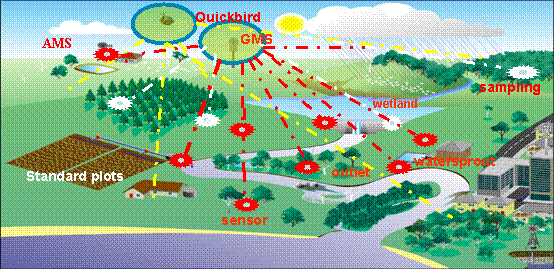 Tridimensional and dynamic monitor system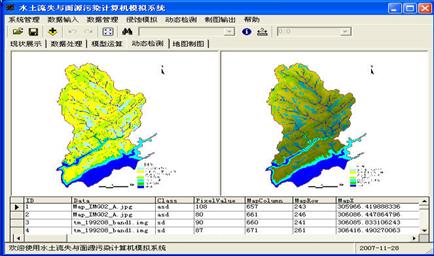 Platform of computer simulation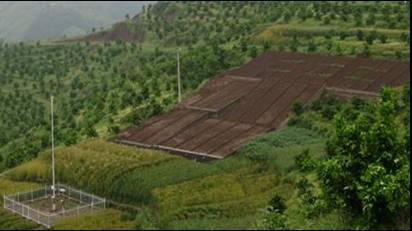 Synthesis monitor plots of soil and water loess and non-point source pullution
Artificial simulation of rainfall plots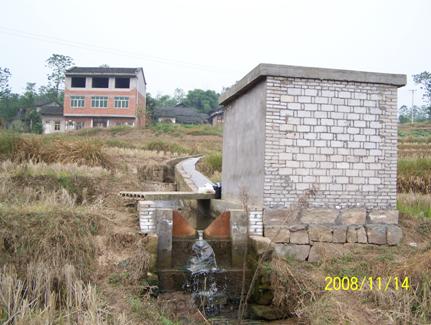 Online monitor of watershed
4. PLANNING OF DEMONSTRATION AREA
Besides of carrying out the field experiments and indoor experiment, also combing the on-going research projects of zhongxian station and the local government to do demonstrational researches and achieve more efficiency research achievements. At present, zhongxian station has already owning 3.2 km2 core experimental area and 45.7 km2 synthesis demonstration area.
The position of core experimental area and synthesis demonstration area
Tridimensional construction pattern of ecological agricultural slope land
5. RESEARCH AND DEVELOPMENT OF CORE TECHNIQUES
(1) Research and develop of techniques with low invest cost, such as "long horizontal slope and short vertical slope" and "sloped terrace and bank of economic hedge row". Aimed to design the parameter of sloped terrace, the width of economic hedge row, reduce soil erosion and enhancing soil quantity.
(2) Because of the severe problems of soil and water erosion and using herbicide, research and develop the techniques of tridimensional planting with lower cost, and highly efficiency using the light, heat, soil and water resource to enhance the soil production and reduce soil erosion and quantity of herbicide.
(3)Reduce the non-point source pollutant and research on scientific fertilizing and recycle techniques of wastes.
(4) Design the reoxygenation and waterfall and small artificial wetland in the natural ditches to reduce the non-point source pollutants such as C、N、P to enhance water quality.
(5) In the condition of improving the ecological function of water level fluctuation, better land use and minor the second waste, research on the planting technique of submerge tolerance.
6. ON-GOING PROJECTS
Since 2007, zhongxian station has undertaken many important research projects. The fulfilled or on-going projects include National Key Science and Technology program, CAS Action-Plan for West Development, Natural Science Foundation of China(NSFC), Western Light Project from Chinese Academy of Sciences and so on. The total research fund reached 21 million RMB.
| | | |
| --- | --- | --- |
| Project Titles | Investors | Leaders |
| Research and demonstration on soil and water loess and non-point source pollutant reduction techniques in the Three-gorge area | | Xiubin HE |
| Micro-landform modification for soil conservation and water regulation | National Key Science and Technology program | Anbang WEN |
| Research and demonstration on slope land management and eco-agriculture in the Three-gorge reservoir area | National Key Science and Technology program | Xiubin HE |
| types and controls of soil erosion and sedimentation in the Upper Reaches of Yangtze River | Ministry of water resource | Anbang WEN |
| Cs-137 model for estimating the rate of soil erosion in small watersheds | NSFC | Xiubin HE |
| Impacts of tillage erosion on micro- landform of slope land in purple hilly area | NSFC | Jianhui ZHANG |
| Current status and comprehensive control strategies of soil erosion for the slope land along the Yangtze river catchment | Changjiang Water Resources Commission | Xiubin HE |