Invited by Deng Wei, Director of Institute of Mountain Hazards and Environment, CAS(IMHE) and Secretary General of Chinese Committee on International Centre for Integrated Mountain Development (CNICIMOD), a delegation from Ministry of Chittagong Hill Tracts Affairs of People's Republic of Bangladesh, leaded by Mr. Naba Bikram Kishore Tripura, Minister Secretary, Regional Board Member of The International Centre for Integrated Mountain Development(ICIMOD), visited IMHE On 26th September.
On behalf of IMHE and CNICIMOD, Deng Wei showed great welcome to the delegation, he hoped that this visit could successfully open the bilateral scientific cooperation and promote communication each other. Mr. Tripura introduced the main objectives of the visit and the general situation of Chittagong Hill Tracts. The Ministry of Chittagong Hill Tracts Affairs was founded in 1980, as one of the special Ministry of Bangladesh, it is focusing on implementing the governmental administrative functions to Chittagong Hill Tracts. He said that on the base of the agreement signed by the Chinese and Bangladesh government to build a technical college aided by Chinese government, Bangladesh government will set up a ethnic university to further strengthen the universal education for ethnic minorities, in addition, he hoped that IMHE will provide support to the aspects of scientific technologies and talent cultivation .
Prof. Hu Pinghua, Director of Academic Exchange Centre of IMHE and Secretariat Office of CNICIMOD, introduced the main work progresses and working prospect of CNICIMOD in the next stage. Dr. Xiong Donghong, Deputy Director of Science and Technology Division, made an introduction about the basic situation of IMHE, including the organization setting, disciplines direction, main fields and achievement s of scientific research and so on. There was a heat discussion among the participants on the issues of mutual interests, after hearing the requirement of Bangladesh about the mountain development, debris flow mitigation, landslide prevention and flood mitigation etc, with great sincerity, IMHE will provide the support in the field of geo-hazards mitigation technology and talent cultivation and so on. The two sides reached an agreement on the establishment of bilateral scientific and technological cooperation, and will signed a memorandum of understanding at appropriate time.
After the meeting, the delegation visited the scientific exhibition room and geo-hazards dynamic laboratory of IMHE, Mr. Li Huancai, from State Ethnic Affairs Commission, and Mr. Hou Ronghua, from Ethnic Affairs commission of Sichuan province also accompanied the delegation. Dr. Li Ainong, Director of Application of Digital Mountain and Remote Sensing Centre, Asso. Prof. Zhang Ning, Vice Director of Academic Exchange Centre of IMHE and Secretariat Office of CNICIMOD, Dr. Zhou Gongdan from Key Laboratory of Mountain Hazards and Earth Surface Process, attended the meeting.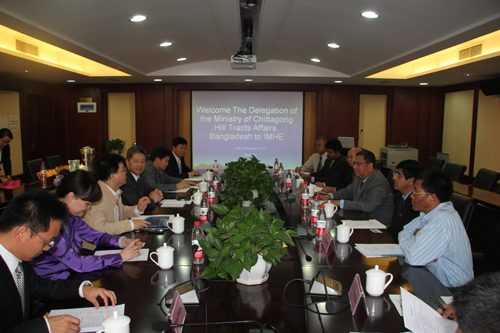 Meeting Site(by IMHE)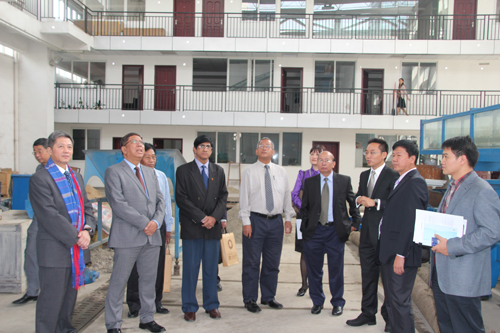 The delegation visited the geo-hazards dynamic laboratory of IMHE(by IMHE)