Koshi River originates from the Middle Himalayas in Tibet, China, passes through Nepal, and joins the Ganges in India. Koshi River is one of the most important transbounday rivers in South Asia, and the Koshi River basin is prone to a range of natural hazards such as GLOF, debris flow and landslide, resulting in tremendous social and economic losses. With support from the Australian Government-funded Koshi Basin Programme at the International Centre for Integrated Mountain Development (ICIMOD), in 2013 the Institute of Mountain Hazards and Environment, Chinese Academy of Sciences (IMHE-CAS) started a collaborative research project on water management and hazard risk reduction, with the objectives to generate evidence-based knowledge in water-induced hazard management, ecological changes and regional socio-economic development in the Koshi River basin under the context of global climate change. On April 25, 2015 at 14:11pm, an earthquake of Ms 8.1 occurred in the Phokara region of Nepal with its epicenter at a depth of approximately 20 km. The earthquake also affected Nyalam County in the Tibet Autonomous Region, 120km away from the epicenter, where 26 people were killed, 49 injured and 8400 under risks. With support from the collaborative research work under the Koshi Basin Programme, Dr. Chen Ningsheng from IMHE,CAS and his research team have conducted a series of studies on water-induced hazards in the upstream Koshi River basin after the earthquake.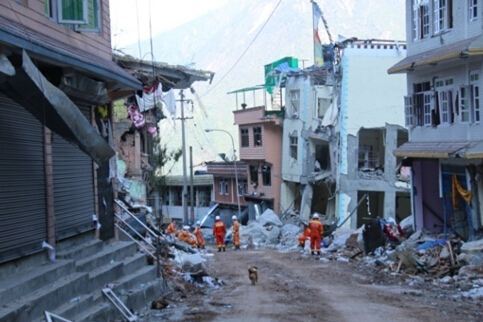 Disigang collapse damaged houses and G318 National Road in Zhangmu (picture by IMHE)

From May 2 to 8, 2015, IMHE team completed MLR-organized geological hazard investigation in earthquake affected areas of TAR. On May 17, 2015, an expert consultation meeting on"4.25 Nepal Earthquake Disaster Loss Assessment in Affected Areas of TAR" was organized by the National Disaster Reduction Commission (NDRC) in Beijing. NDRC's Expert Commission Member Academician Dr. Cui Peng, and expert group member Dr. Chen Ningsheng from IMHE presented at the meeting. Right after the 4.25 Nepal earthquake, IMHE team submitted to CAS a policy recommendation report on "Enhancing Mountain Hazard Management in the Southern Slopes of Himalayas in China in light of the Nepal Earthquake" based on their analysis on the region's hazard history and impact on mountain areas. After the Nepal earthquake, IMHE team completed post-disaster loss assessment commissioned by TAR's Department of Land and Resources and Department of Commerce.

Some research results by IMHE team have already been published in peer-reviewed journals such as Natural Hazards and Earth System Sciences, and related policy recommendation report was also accepted by CAS. An initial investigation report on the earthquake and its impacts was produced to serve as basis for disaster loss assessment and post-disaster reconstruction. The report was also graded as Excellence, and relevant work and activities received generous support and praise from TAR's Department of Land and Resources, and other concerned government agencies.