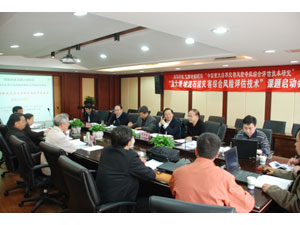 The launch meeting of National TCM Project Integrated Risk Assessment Tool of Important Landslide and Debris Flow, hosted by Prof. Wen Anbang from science and technology division of IMHE, was held in Chengdu on 23rd, March, 2009. Deng Wei, director of IMHE, researcher Huang Tieqing of Bureau of Science and Technology for Resources and Environment, as well as Dr. Dai Erfu of Institute of Geographic Science and Natural Resources, addressed speeches respectively.
Researcher Wei Fangqiang, project principal leader made an overall and detailed presentation on research objectives, research content, scientific issues, technology flow, implementation scheme and expecting achievements, and each subject host also gave an introduction respectively on subject implementation scheme in every detail. Consultation team leader Chen Panqin offered plenty of constructive advice and suggestions which will be play an important part in directing practice of the implementation scheme.
There was also an inner meeting for project group to discuss the advice and suggestions from consultation group.
  Source: Debris Flow Division