Under the support of CAS Visiting Fellowship for researchers from developing countries, Prof. Vishwambhar Prasad Sati from Department of Geography and Resource Management, Mizoram University, India comes to IMHE for a three-monthacademic exchange. During his stay in IMHE, Prof. Sati and Prof. DENG Wei jointly developed research of impacts of mountain farmer's livelihood on land use in the upper reaches of the Minjiang River.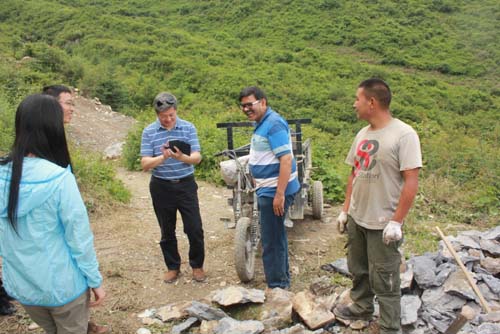 field trip in sample village(by IMHE)

In order to investigate the settlement distribution pattern and mountain farmer's livelihood in the upper reaches of the Minjiang River, Prof. Sati and IMHE team firstly selected three typical villages (Huilong Village of Maoxian County, Leshi Village, Muka Village of Lixian County) as sample fields, and investigated the distribution pattern, the production and living style. The team alsocarried out questionnaire survey to find out the impact of livelihood, income source, education background, and livelihood change after Wenchuan earthquake on land use change.

Based on the field survey results, Prof. Sati made a presentation titled "Options and Strategies for Livelihood Sustainability in Mountainous Region of the Upper Minjiang River Basin, Sichuan Province, China". He introduced the progress of the survey and discussed the next working plan with team members.

Besides his research work, Prof. Sati gave two reports in IMHEtitled "Diversifying and enhancing livelihood options in the Himalaya" and "Application of Research Methodologies in Scientific Research", discussed the livelihood strategy and how to do better research, which get well received from researchers and students from IMHE.

This three-month academic exchange laid the foundation for the cooperation between IMHE and Mizoram University. IMHE plan to sign a MemorandumofCooperation with Mizoram University and develop joint research on the research of mountain farmer's livelihood and settlement.

The implement of CAS Visiting Fellowship for researchers from developing countries not only broadens the partnership between IMHE and University of India, and also contributes to the multilateral cooperation in South Asia areas.