On May 17, 2015, an expert consultation meeting on"4.25 Nepal Earthquake Disaster Loss Assessment in Affected Areas of TAR" was organized by the National Disaster Reduction Commission (NDRC) in Beijing.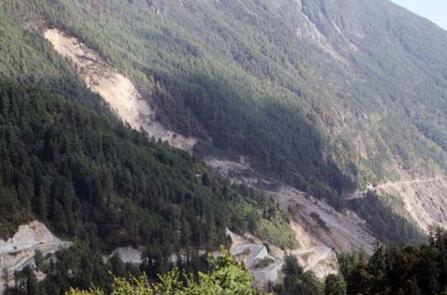 National Road 216 (leading to Gyerong dry port) was blocked by landslide (picture by IMHE)

NDRC's Expert Commission Member Academician Dr. Cui Peng, and expert group member Dr. Chen Ningsheng presented at the meeting. The expert group was led by Deputy Director of NDRC's Expert Commission, Professor Shi Peijun of Beijing Normal University. From May 10-13, the expert group visited earthquake affected areas in Tibet including Nyalam, Gyerong and Tingri Counties, assessing the area's casualties, property losses and infrastructure damages, and briefed TAR government officials of the assessment method, initial investigation results and regional earthquake and geological hazard characteristics. Dr. Chen Ningsheng was fully involved throughout the investigation as a member of the expert group. Based on the assessment, the experts concluded that the earthquake impact was profound with high magnitude, large affected areas and tremendous losses. The earthquake also triggered geological disaster chains, making it difficult for disaster rescue and post-disaster management. The assessment report was to serve as an important basis for post-disaster reconstruction afterwards.