After the Nepal earthquake, commissioned by TAR's Department of Land and Resources, Dr Chen Ningsheng from Institute of Mountain Hazards and Environment, Chinese Academy of Sciences (IMHE-CAS) led a 9-person work team to investigate geological hazards in Nyalam County.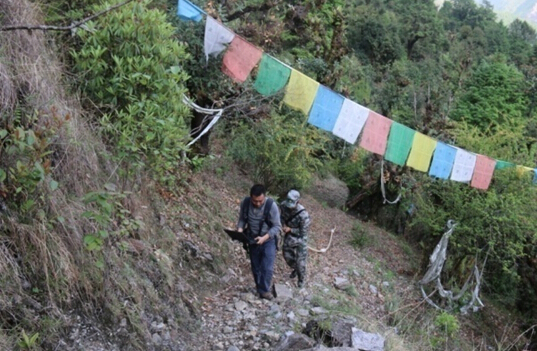 Using Radar to examine multiple fractures of Zhangmu landslide (picture by IMHE)

The investigation lasted for more than one month, covering an area of 7684.39km2, visited and surveyed 45 villages, and measured 328 geological hazard sites. Based on the investigation analysis, 211 earthquake-induced hazard sites were identified, spanning 5 towns in Nyalam County. Among the sites, 10 were landslides, 159 collapses, 26 debris flow gullies, 25 unstable slopes. Areas along Nyalam town-Zhangmu-Friendship Bridge were more prone to landslides and collapses, areas along Nyalam town-Yalai town-Dadi village were prone to mainly collapses and debris flows with few landslides, while areas on the eastern slopes of Mt. Shixiabangma were prone to glacial debris flows. A series of recommendations were proposed for post-disaster reconstruction in earthquake-affected areas based on the region's topography, geological structure and climatic conditions. On November 14, commissioned by TAR's Department of Commerce, Dr Chen and his team also conducted stability and potential hazard risk assessment for the site where the new Rasuwagadhi Immigration Office in Timre, Nepal would be built with support from China. Hazard prevention measures and suitability assessment were proposed to underlie the following construction work.