Introduction
In order to mitigate and prevent the most serious mountain hazards in Sichuan, Sichuan Engineering & Technology Research Center for Mountain Hazards Mitigation is established by Department of Science and Technology of Sichuan Province and Chengdu Branch of the Chinese Academy of Sciences on October 2007. SMHMETRC is founded on Chengdu Institute of Mountain Hazards and Environment (IMHE), and the main researchers come from Key Laboratory of Mountain Hazards and Earth Surface Process, Chinese Academy of Sciences.
SMHMETRC is mainly engaged in engineering prevention and mitigation technology research and development of debris flow, landslide, avalanche, flash flood and soil erosion et al mountain hazards in Sichuan. At present, SMHMETRC is composed of 80 scientists, experts and engieners,and have more than 200 instruments and equipemts and 3 field workshop platforms. SMHMETRC owns geological hazard survey, design and evaluation, mine environment evaluation, soil and water conservasion project design et al 9 the first class and second certificates, we have finished more than 300 items in last 20 years and achieve great economic and social benefits all over China.
Serve Slogan
Enhance mountain hazards prevention and mitigation science and technology level, face and serve western mountain region engineering reconstruction needs
Development Goals
Based on solving the mountain hazard problems during engineering reconstruction of Sichuan and
Western region,to set up a national and international top-ranking mountain hazards mitigation
engineering group, and let SMHMETRC become ChinaMountain Hazards Mitigation
Engineering and Technology Research Center in near future.
Main Mission
(1)research and developemnt in mountain hazards mitigation engineering technology
(2)mountain hazards investigation and risk, dangerous degree evaluation
(3) mountain hazards prevention and mitigation engineering survey, programming, design,construct and supervise
(4)mountain hazards monitoring and forecasting instrument and technology
(5)mountain hazards related technology consultation and trainning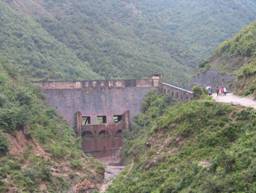 The highest debris flow bloacking dam with height of 39 meters in Yanjinggou Gully, Mianning, Sichuan along Chengdu-Kunming Railway Line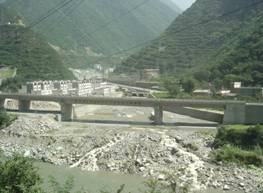 Debris flow draining channel in Wenchuan-Dujiangyan Higeway near May 12,2008 Wenchuan Ms8.0 Earthquake epicenter
Landsilde prevention engineering along Sino-Nepalese Highway in Tibet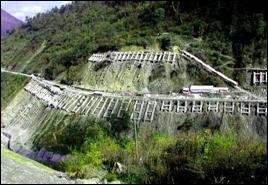 Landslide reinforce engineering along Sichuan-Tibetan Highway in Erlangshan Mountain, Sichuan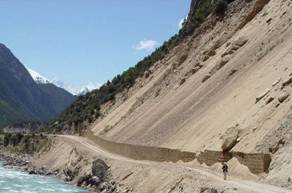 Debris slope hazards blocking wall along Sichuan-Tibetan Highway in south-east of Tibet
Contact us
Dr. & Prof. Dongtao Ma
Address: No.9, Section 4, Renminnanlu Road, Chengdu, Sichuan P.R. China
Post Code: 610041
E-mail: dtma@imde.ac.cn; dtma-106@163.com
Tele: (86)28-66299356, (86)13678181398